Here are two views of the building at 283 Bleecker Street in the West Village in NYC where Ella Bernard McNally and William McNally gave birth to Catherine McNally (mother of twins Bill, Ed Tennis and Ann Tennis Kurz) on 07 November 1883.
Click here for my online Family Tree in outline format (see bottom of the page)! You have a choice of viewing the HTML or PDF formats. HTML is easier, but PDF may be easier for you to print out - you'll need Adobe Acrobat Reader to view the PDFs. It's free - just go to http://www.adobe.com/products/acrobat/readermain.html You'll be prompted when you click on the tree name.
If you're in NYC, visit the Lower East Side Tenement Museum to experience how some of our ancestors lived when they came to this country.
The Tennis Family Tree is a work in progress, so continue sending me information. Dates and places of marriage are the best way of going back in time.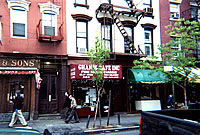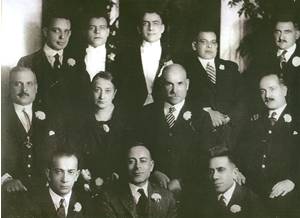 Top Row: Bruno, Mike, Mario, Lorenzo, John Mirabelli.
Middle Row: Eugenio, Filomena, Angelo, Antonio (Grampa)
Bottom Row: Phil, Caesar, Harry
<<< Here's a circa 1930 photo sent to me by Uncle Ed and Aunt Caroline depicting Grampa Lupia and his cousins.
Archy Lupia, Uncle Ed's cousin, supplied the names - Harry is Archy's father and Ed's godfather.